Soft Naan Bread with beautiful golden brown spots just the ones you find at the best Indian restaurants. The BEST Naan recipe out there!
Not just a flat bread, naan is just incredible! The pillowy soft bread is so addictive and perfect for mopping up curries, you'll find it hard to stop at one! Our quick and easy recipe that will become your new favorite yeast bread recipe!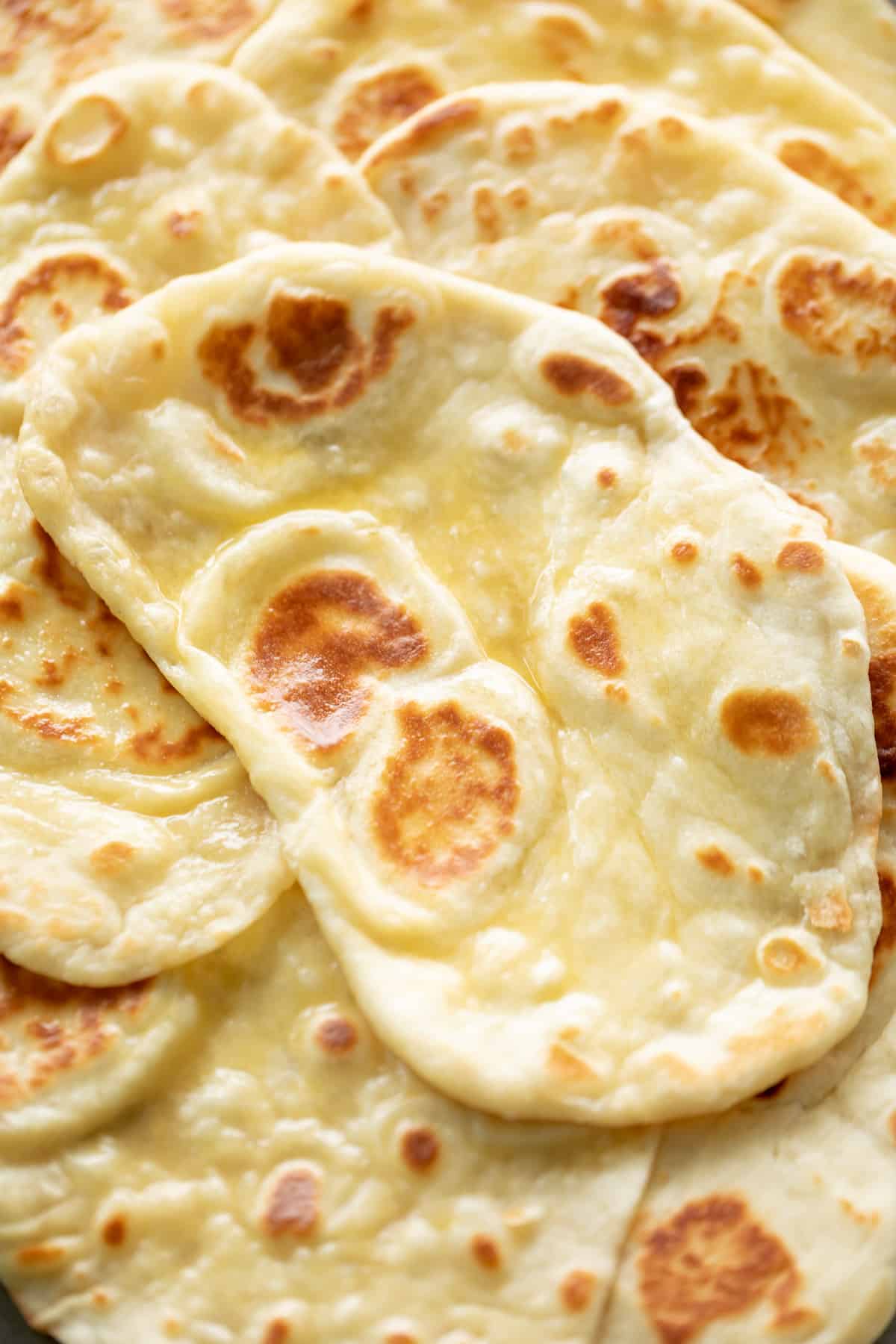 SOFT NAAN BREAD
A traditional flat bread from India, naan breads are normally baked inside hot Tandoor ovens with charcoal or wood fire. They cook on the inner walls of the oven at a very high heat of up to 900°F. The breads fill with air pockets and cook perfectly.
Because most of us don't have Tandoor ovens, our naan bread recipe has been altered to include a combination of yogurt and oil to give them that irresistible soft and fluffy texture. Cook them right on the stove in a hot cast-iron skillet and watch them puff up into glorious breads right in front of you!
WHAT IS THE DIFFERENCE BETWEEN NAAN BREAD AND PITA BREAD?
Both are flatbreads made with a yeast raised dough, however Pita bread has a harder texture when compared to Naan. While pita breads only contain flour, water, yeast, salt and some olive oil; naan is made with a fattier, more enriched dough including ghee (clarified butter), oil, yogurt and sometimes eggs. This gives naan its different texture.
TIPS ON HOW TO MAKE NAAN
First, you're going to activate your yeast.
Then, mix all of the ingredients together until the dough comes together with your hands.
Knead until smooth, then transfer to a lightly greased bowl. You can use the same bowl you mixed the dough in to save dishes.
Cover with plastic wrap and let double in size.
Divide dough into 10 balls and roll each piece into large ovals about 6-inches long and 1/8-inch thick. The thinner you roll them, the more air pockets form inside them while cooking.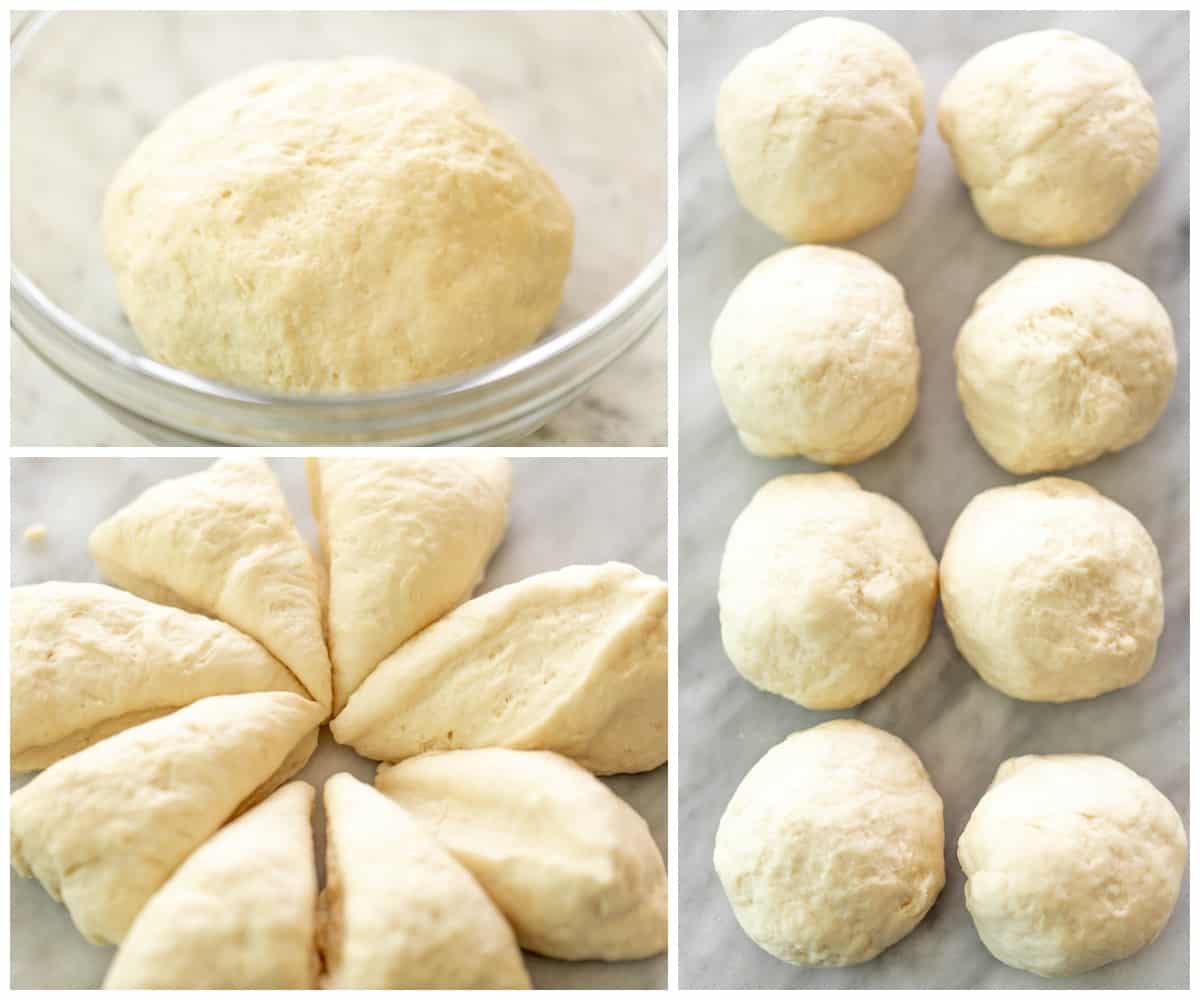 Get a lightly greased skillet nice and HOT. The high heat makes the dough rise fast and fills the breads with air.
Cook until bubbles form, then flip and cook until large golden spots appear on the underside. Flatten the breads with a spatula while cooking to ensure they cook through.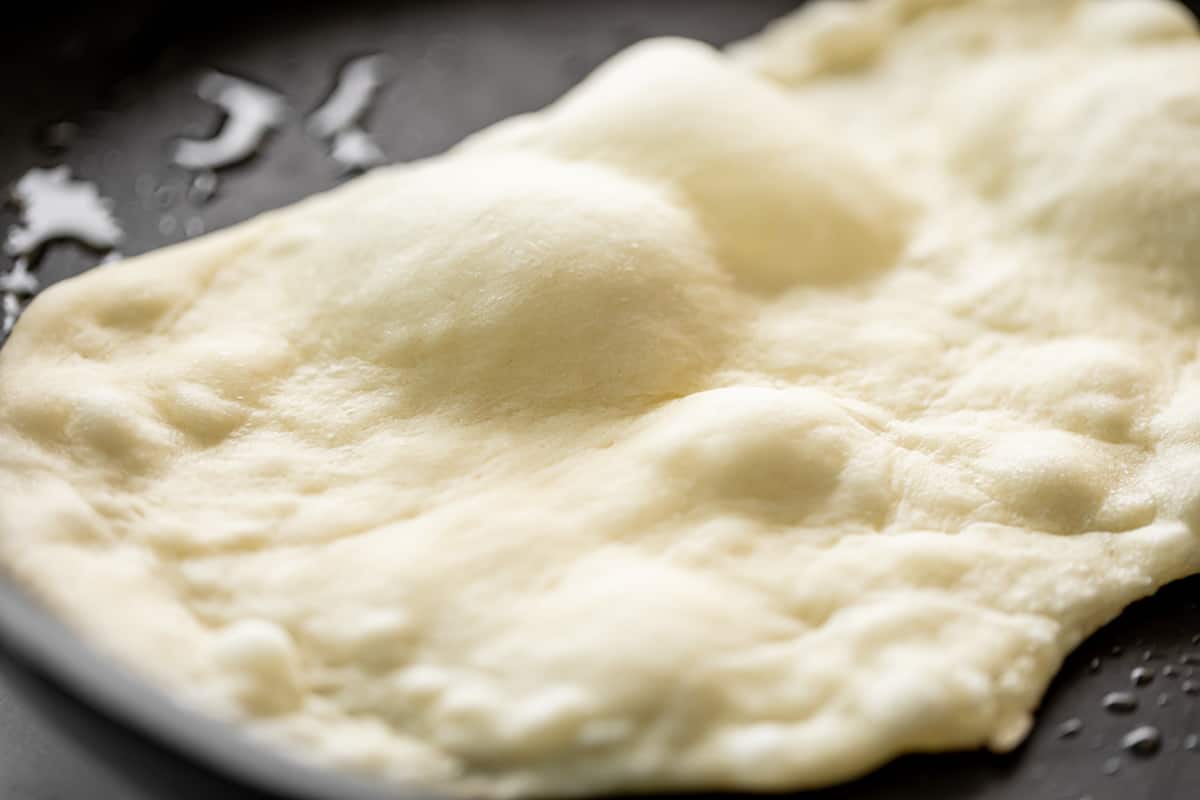 Wrap cooked naan in a clean kitchen towel and keep them wrapped while cooking remaining breads.
Optional: brush warm cooked naan with a little melted butter; top with coarse salt and fresh chopped cilantro.
Serve with anything, from soups to stews or curries like Tikka Masala or Butter Chicken. Naan can also be eaten on its own or used to make wraps. Substitute them for tortillas for quesadillas, or for simple naan pizzas!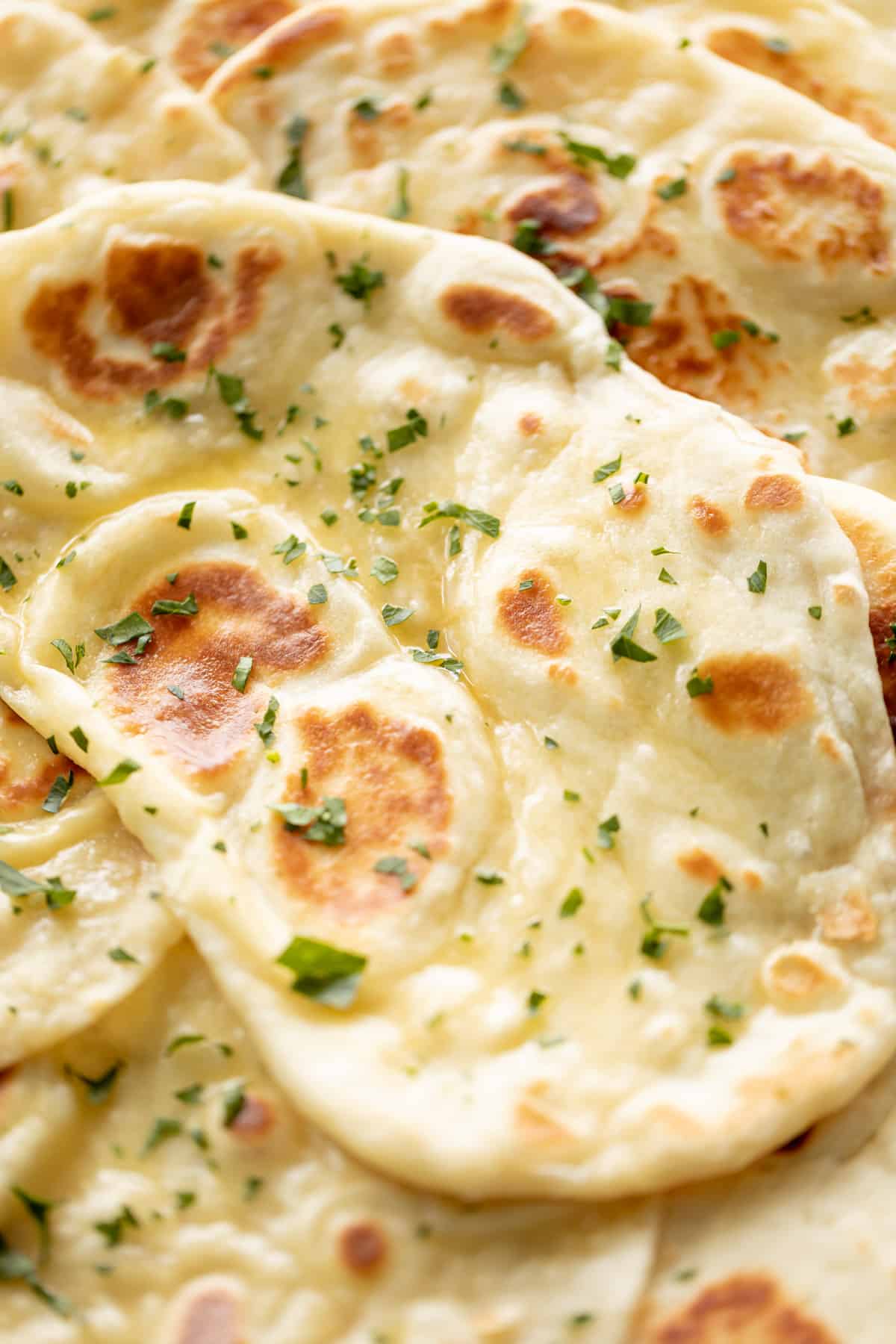 HOW TO STORE NAAN
When cooked, let cool completely to room temperature to prevent condensation. Transfer to ziplock bags and store at room temperature for up to 2 days, or refrigerate for up to 4 days.
FREEZE NAAN
Follow steps above and store in the freezer for up to 2 months. Frozen naan thaws quickly at room temperature. Reheat in the microwave or on a skillet at low-medium heat.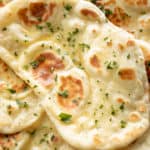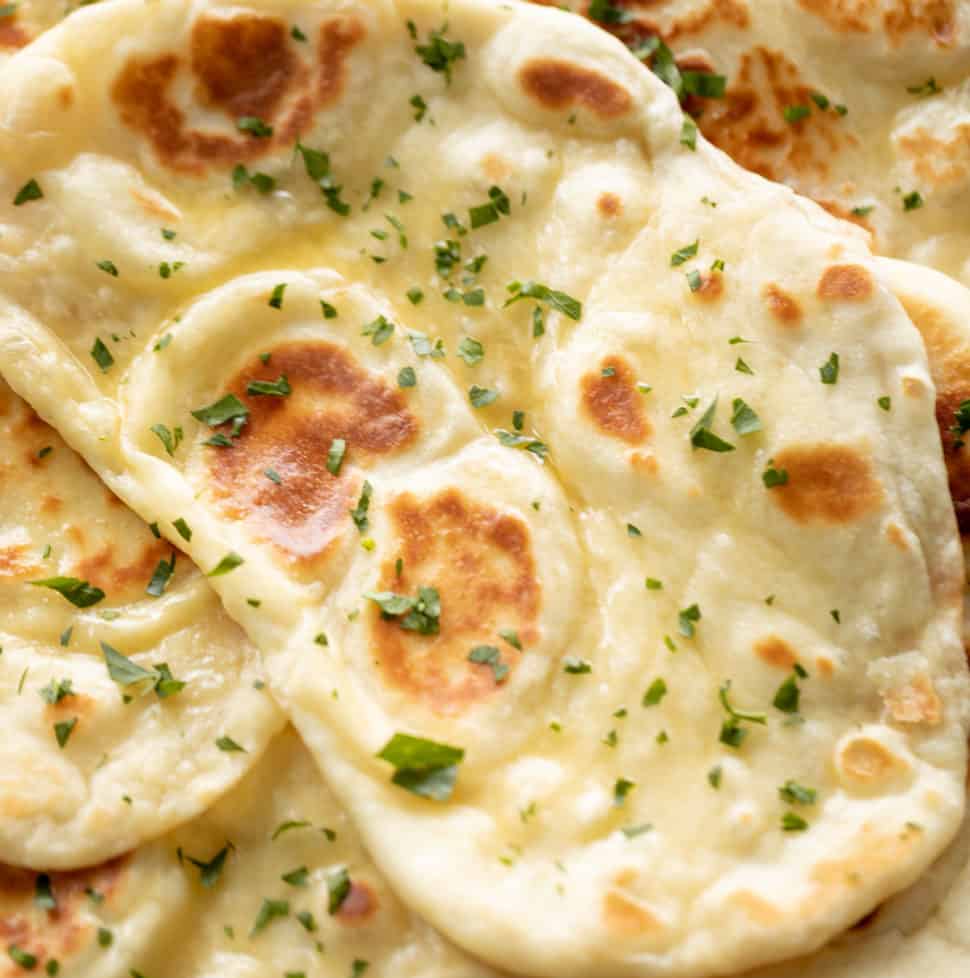 Print Recipe
Soft Naan Bread
Soft Naan bread with golden brown spots just like the best Indian restaurants. The BEST easy recipe out there! Perfect to mop up curries.
Ingredients
NAAN BREAD
1/4

cup

warm water

2

teaspoons

granulated sugar

1 1/2

teaspoons

active dry yeast,

or instant (rapid rise)

3/4

cup

warm milk

3/4

cup

plain Greek yogurt,

or natural plain yogurt

1/4

cup

vegetable oil,

plus 2 tablespoons extra for cooking

4

cups

plain flour

plus extra for dusting -- (19 1/2 oz. or 560g)

1

teaspoon

baking powder

1

teaspoon

salt
GARLIC BUTTER TOPPING
1/4

cup

butter,

melted (optional)

2

cloves

garlic,

minced

1

teaspoon

fresh chopped cilantro or parsley
Instructions
FOR NAAN BREAD
Combine together the water, sugar and yeast. Let sit for 5-10 minutes or until the mixture begins to bubble on top

Add in the milk, yogurt, oil, flour baking powder and salt. Mix until the dough comes together with your hands.

Turn dough out onto lightly floured surface. Use floured hands to knead the dough until smooth, about 3 to 5 minutes.

Lightly grease the same mixing bowl with a small spray of cooking oil. Transfer dough to the bowl and cover with plastic wrap. Let rest at room temperature for about an hour until doubled in size.

When ready to cook, divide the dough into 10 equal pieces. Roll into balls, then use a rolling pin to roll each piece of dough into a large oval, about 6-inches long and 1/8-inch thick. Repeat with remaining dough.

Heat a large cast iron skillet over medium-high heat. Grease skillet all over with 1/2 teaspoon of the extra oil.

Place one piece of the naan on the oiled hot skillet and cook until bubbles form on top, about 1-2 minutes. While cooking, brush the top with a little oil.

Flip and cook for another 1-2 minutes, until large golden spots appear on the bottom.

Remove from the skillet and wrap in a clean kitchen towel. Repeat with the remaining naan (keep them wrapped in a towel while you work).
FOR OPTIONAL GARLIC BUTTER TOPPING
Combine melted butter and minced garlic together in a bowl. Brush each naan with the garlic butter and top with the fresh herb of your choosing.
Nutrition
Calories:
289
kcal
|
Carbohydrates:
38
g
|
Protein:
6
g
|
Fat:
12
g
|
Saturated Fat:
7
g
|
Fiber:
2
g
|
Sugar:
3
g